A Guide To Shopping At Hollywood's Yellow Green Farmers Market
---

Tucked inside a quiet residential neighborhood in Hollywood sits 200,000 square feet of organized chaos.
After converting a 50-year-old sheet metal factory, the Lalo family, owners of the Invicta Watch Company, opened Yellow Green Farmers Market in 2010.
Designed to be a reflection of their European heritage and their experiences in Latin American mercados, the Lalos family created the community market to support entrepreneurs looking to grow their small businesses.
Yellow Green's Saturday and Sunday 8 a.m. to 4 p.m. schedule supports its entrepreneurial vendors who still need to keep their weekday jobs, explains Mark Menagh, the market's general manager.
With 400 booths (and growing), more than 150 globally inspired prepared foods and an estimated 10,000 patrons a day, first-time visitors may feel a little overwhelmed. Make your first, or next, trip to Yellow Green worry-free with our best tips and favorite vendors below.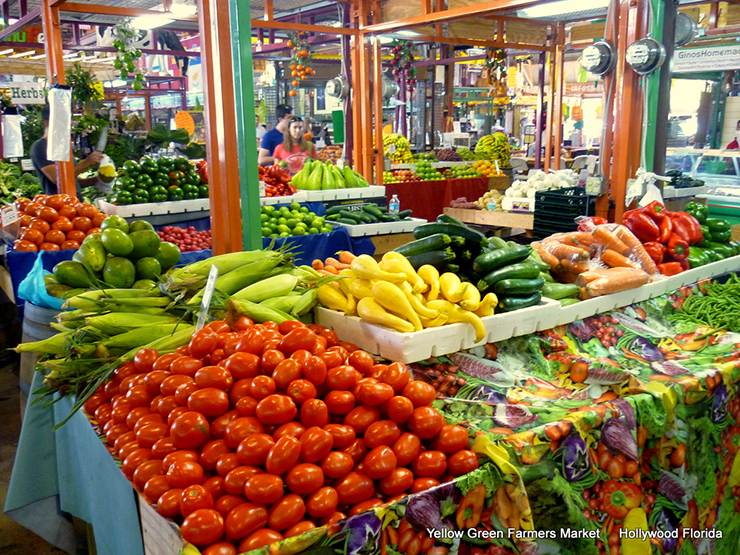 Stick To A Category
Don't get overwhelmed by trying to pick up all of your needed food items for the week at Yellow Green, especially if it's your first visit. Focusing on one destination or theme will make it much easier, Menagh says.
Whether your chosen category is fresh local produce, fragrant herbs and spices, smoky wood-burning grills, vegan pastries, home decor or natural skin care, the market has it. It will be less stressful—and more enjoyable—to discover one or two of these categories at a time instead of trying to figure them out all at once.
Pick A Cuisine
An international world of gastronomy exists at Yellow Green. You can find traditional and authentic dishes from Indonesia, Thailand, Ethiopia, Jamaica, Mexico, Colombia, Greece and Russia.
Some of our favorite vendors include Lokal Moko (booth 598), serving traditional Hawaiian fare, including poke; Chinese-Venezuelan firewood barbecue vendor Locos x Grill (booth 589); Balbisiana (booth 579), known for its toston burgers; Indonesian vendor Krakatoa (booth 001); Yummii (booth 509), which serves liquor-infused fruit bars; and dessert vendor Two to Cake (booth 174).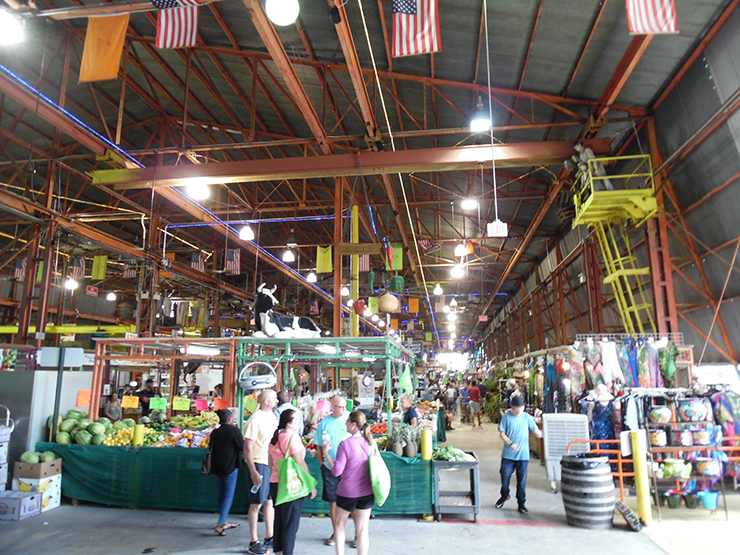 Eating Not Required
While food vendors may reign supreme, the market is filled with a plethora of other items and services for your perusing. At Yellow Green you can thread your eyebrows, cut your hair, have alterations done on your clothes, replace a watch battery, buy a bathing suit, pick up some succulents and even get a massage.
Some of our favorite non-food vendors include Briut Essentials (booth 222), which sells organic products like charcoal toothpaste, sunscreen, lip balm and biodegradable toothbrushes; vegan skin and hair product vendor Donata Skin Food (booth 186); and The Soaperie Bar (booth 219), which offers artisanal imported French soaps and products.
Other notable vendors to try are Shea Experience (booth 29), offering African shea butter and soaps, and Spice Junkie (booth 160), which has gourmet teas, spices and herbs.
"You could come here every weekend for a year and try something new each time," Menagh says. "Bring your own recyclable bags and just taste the market."
1940 N. 30th Road, Hollywood; 954.513.3990; ygfarmersmarket.com
Photos courtesy of Yellow Green Farmers Market