Blackout Kitchens Are All the Rage
---
Color trends they come, and color trends they go. But black? She's a timeless classic. Which is why we've been loving the creative black kitchen features gracing our Instagram and Pinterest feeds as of late. Ready, set, sexiest kitchens ever.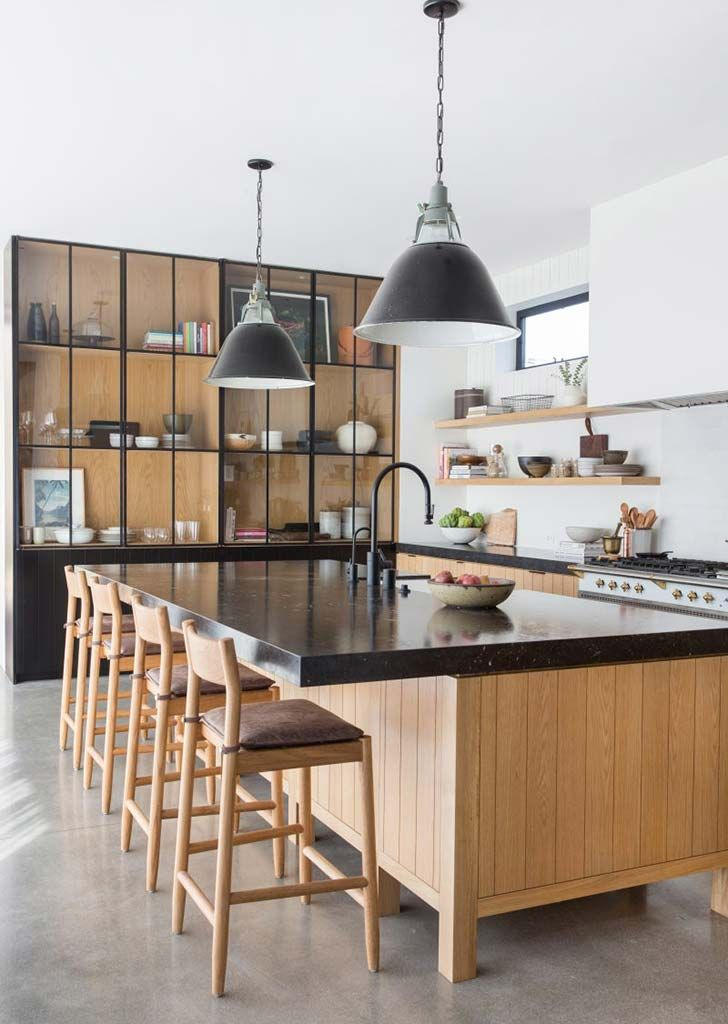 Design: Amber Interiors; Photo: Tessa Neustadt
Etagere-Style Shelving
Designer Amber Lewis knows that black cuts a seriously chic line through a space. Which is why she added a focal shelving wall to tie together her black counters, hardware and industrial pendants.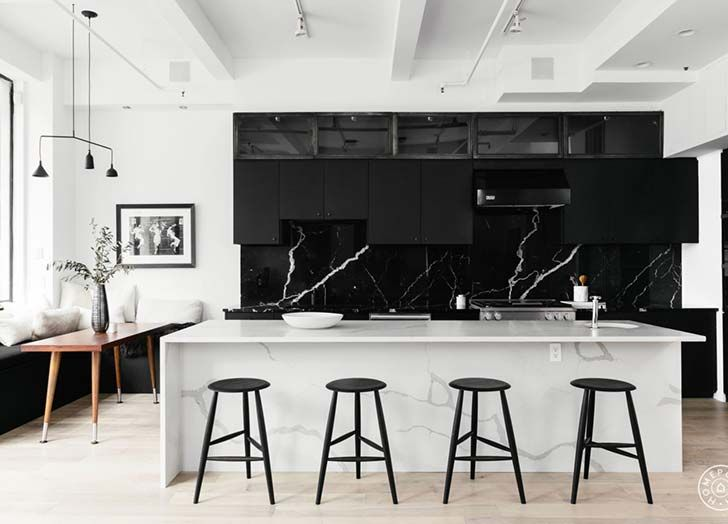 Design: Jae Joo; Photo: Julia Robbs; Courtesy of Homepolish
Black Marble
Later, white marble—there's a new power player. We love how Homepolish designer Jae Joo complemented this epic backsplash with minimalist matte black uppers and a dreamy banquette dining area.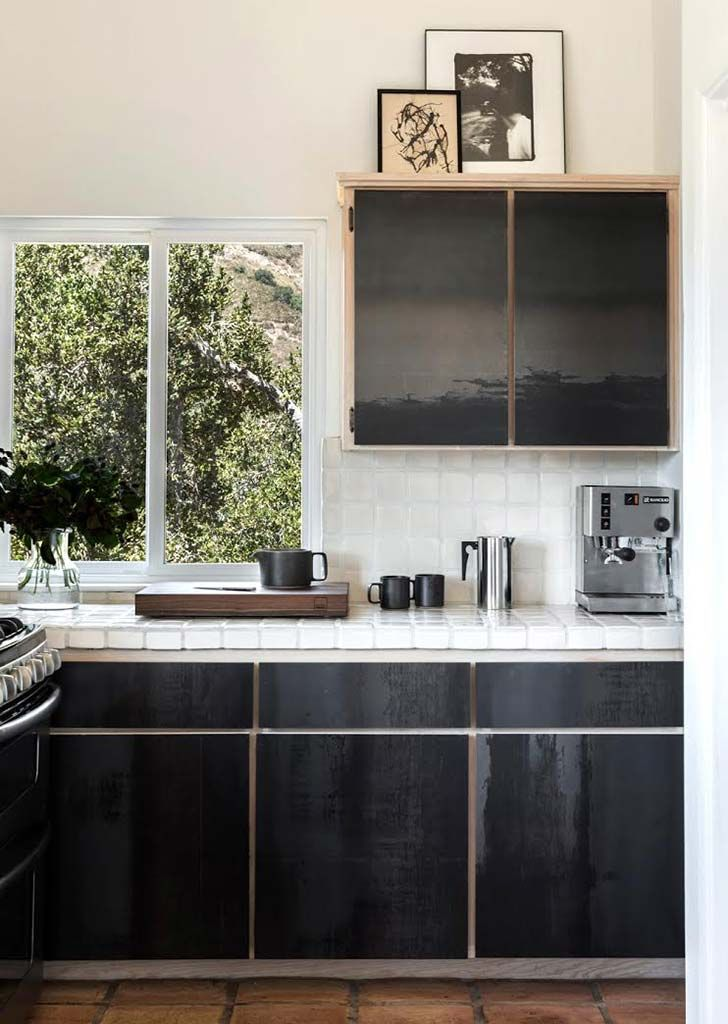 Design: Carissa Duncan of Salt + Bones; Photo: Laure Joliet
High Gloss Cupboards
Holy textural explosion. Here, designer Carissa Duncan of Salt + Bones mixed blonde wood frames, white-tiled counters and glossy black flat-front cabinets for a result that strikes the perfect balance between edgy and classic.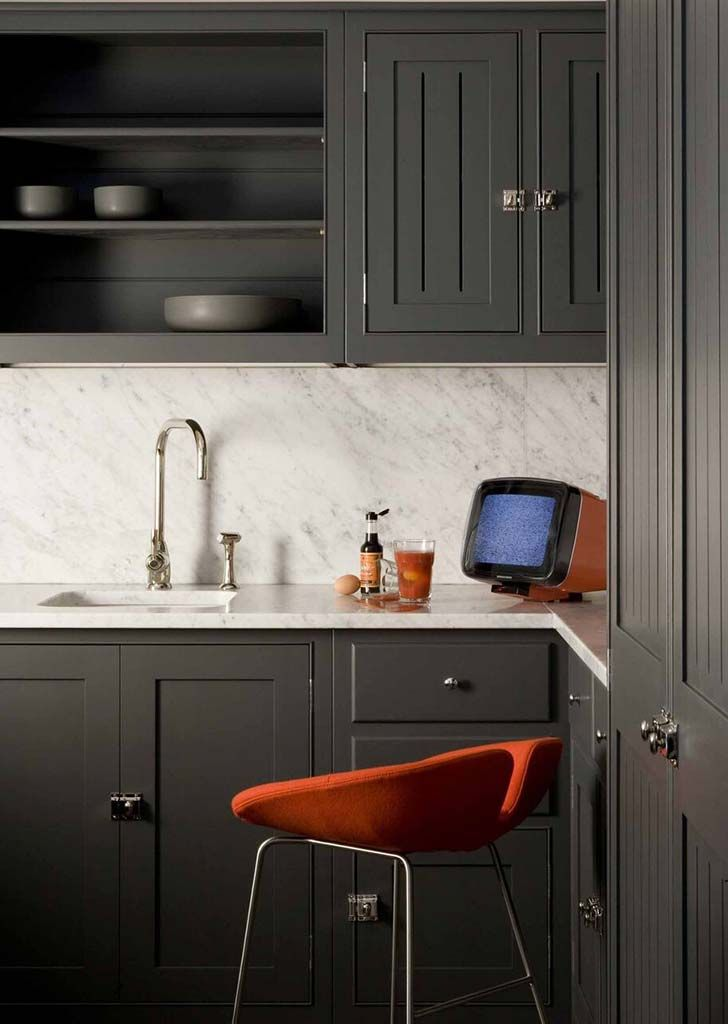 Courtesy of Plain English Design
Gray/Black Paint
For a more classic, Shaker-style kitchen, black tones with hints of gray can feel more authentic to the space. Example A: This perfect kitchen by Plain English Design. Shout out to the petite integrated marble sink. We mean, kitchen dreams.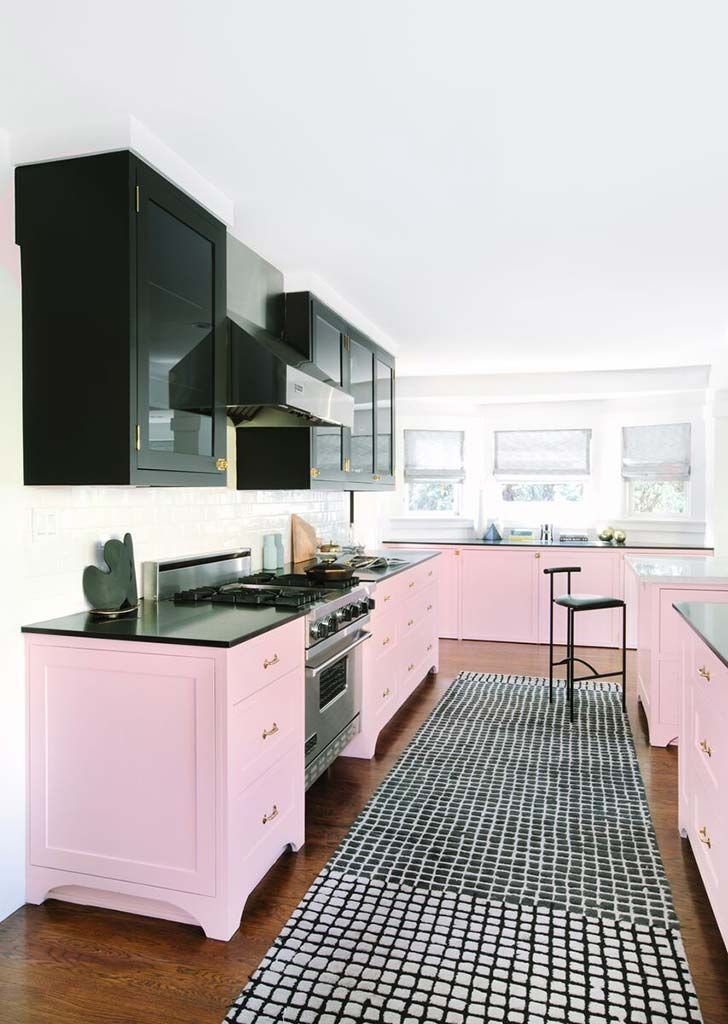 Design: Black Lacquer Design; Photo: Mary Costa
Black Uppers
As a neutral, black allows for a bold upper/lower, mix-and-match opportunity. This bubblegum pink scheme by Black Lacquer Design isn't for the faint of heart, but it's beautifully executed nonetheless.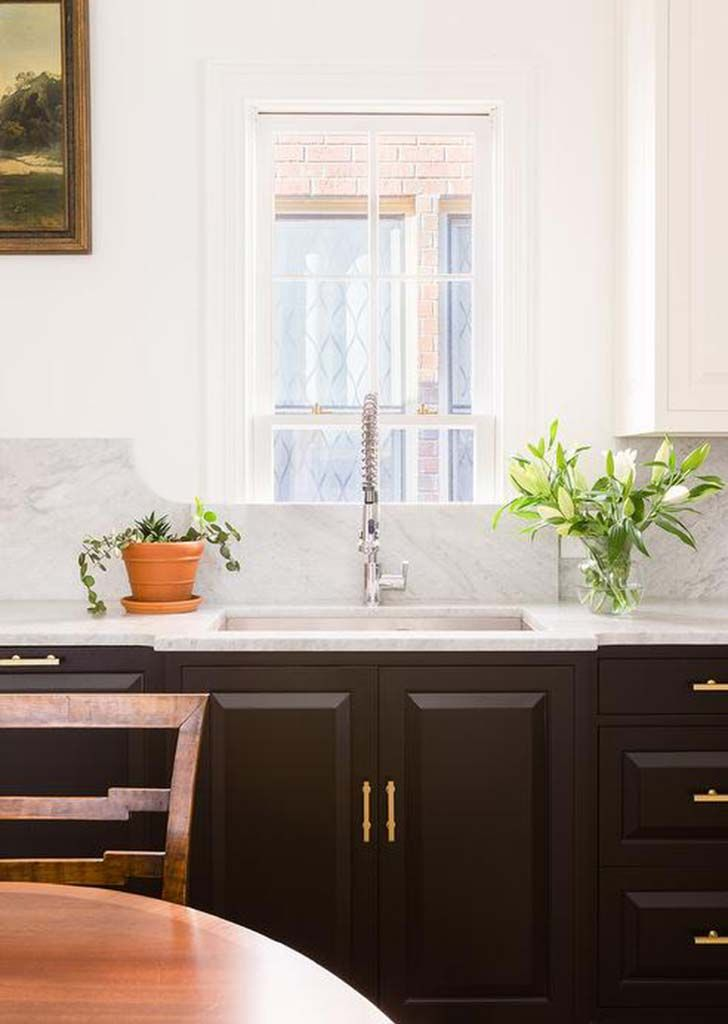 Design: Jason Arnold Interiors; Photo: Alyssa Rosenheck
Black Lowers
Or you know, you could keep things classic. This tuxedo palette kitchen by Jason Arnold pairs beautifully with brass hardware and traditional mahogany furnishings.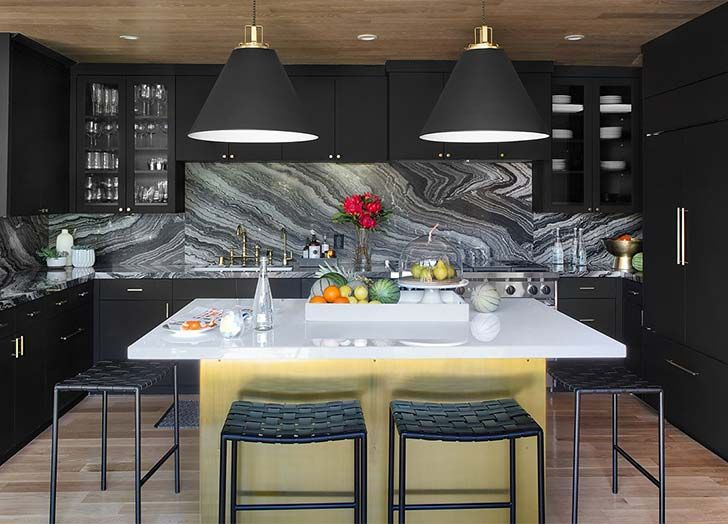 Design: Studio Life.Style
Black & Gold
In this striking kitchen by Studio Life.Style, gold hardware, gold decorative accents and even a gold kitchen island base take the space from dark and brooding to glam and happy.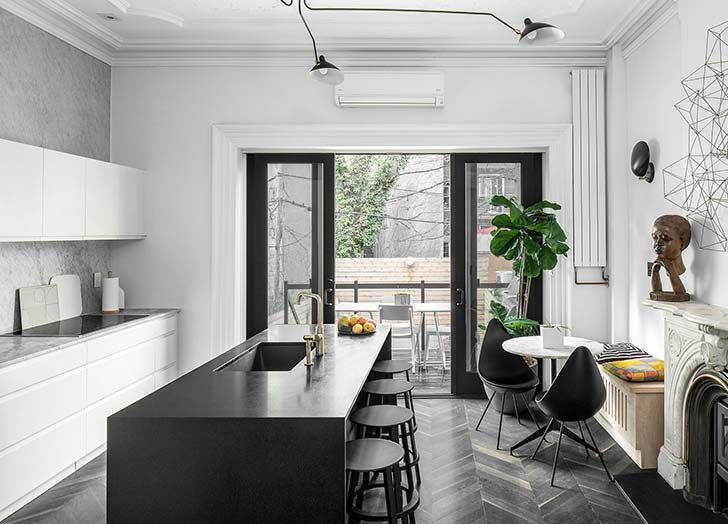 Design: Delia Kenza; Photo: Sean Litchfield; Courtesy of Homepolish
Black Islands
In this white and grey stunner by Homepolish designer Delia Kenza, an oversize black island punches a line through the room, adding contrast and leading the eye out onto the terrace. Outrageously chic, no?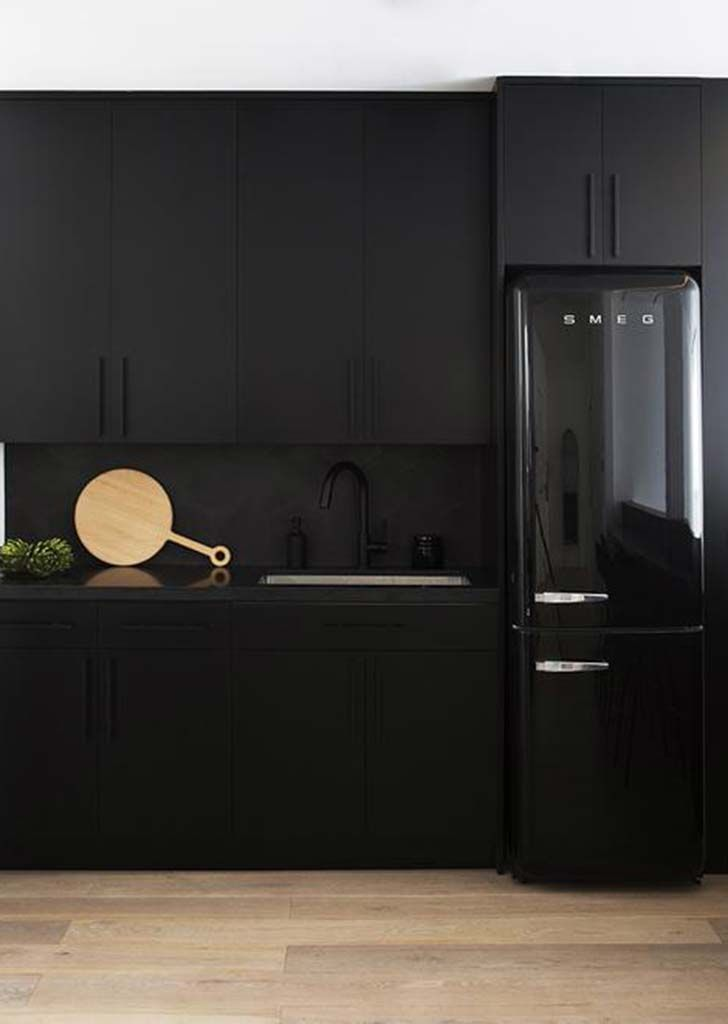 Design: Consort Design; Photo: Sam Frost
All Black Everything
To soften an all-black kitchen, Consort Design chose a smooth, matte finish black paint for the cupboards and a polished black concrete backsplash. (Bonus points for that glossy black Smeg fridge. Swoon.)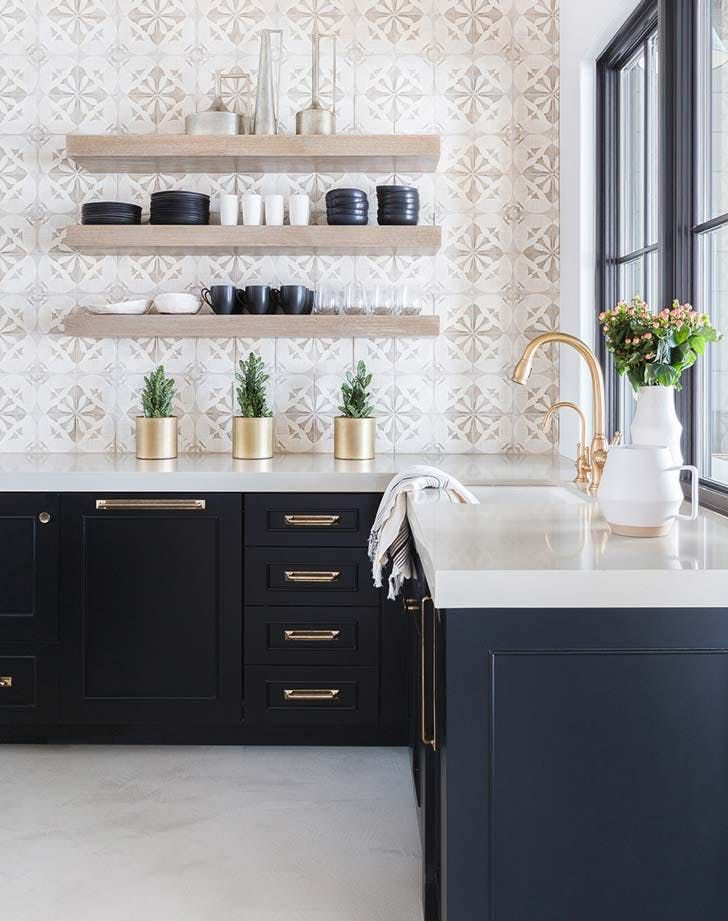 Design Nicole Davis; Photo: Alyssa Rosenheck