A Comprehensive Guide To The 2018 Fort Lauderdale International Boat Show
---

The 59th annual Fort Lauderdale International Boat Show (FLIBS) returns to town from Oct. 31 to Nov. 4, across seven waterfront locations.
We've put together all the details you'll need to navigate the show with ease. Keep reading below to find out where FLIBS is being held, how to get there, who's exhibiting products and more.
Locations
FLIBS will be held at Bahia Mar Yachting Center, Hall of Fame Marina, Las Olas Municipal Marina, Hilton Fort Lauderdale Marina, Pier 66 Marina, Sails Marina/Pier 66 South and the Greater Fort Lauderdale/Broward County Convention Center. Note that this year's main entrance is different than in the past—it will be located several hundred yards to the north end of the Bahia Mar Hotel and Marina, along Seabreeze Boulevard, just south of the International Swimming Hall of Fame and Marina.
Show Schedule
Oct. 31: Noon to 7 p.m.
Nov. 1: 10 a.m. to 7 p.m.
Nov. 2: 10 a.m. to 7 p.m.
Nov. 3: 10 a.m. to 7 p.m.
Nov. 4: 10 a.m. to 6 p.m.
Exhibitors
FLIBS is recognized as the largest in-water boat show in the world. The event will showcase 1,200 exhibitors representing 52 countries, with more than 1,500 boats on display.
Exhibitors include Midnight Express, Ulysse Nardin, Rossinavi, Blackfin Boats, Burgess, Ferretti Group and more. See the full list here.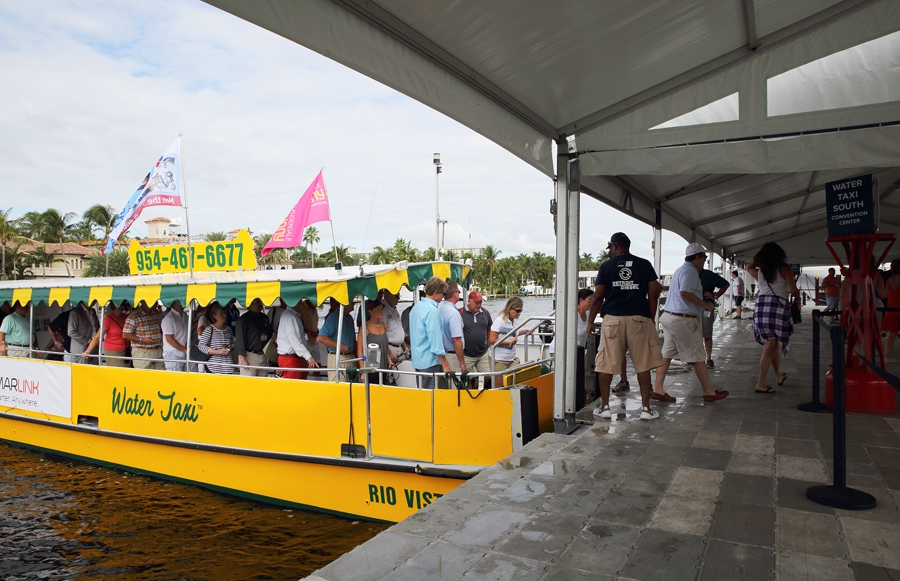 Transportation
Water Taxi of Fort Lauderdale will reduce ticket prices to $12 per day for FLIBS this year. The Water Taxi will provide transportation to all boat show sites, and has been the official marine transportation provider for the event for over 20 years.
The Water Taxi has dedicated its entire fleet for the 59th annual event, and tickets can be purchased here, or at any Water Taxi boat show boarding locations.
The FLIBS boarding locations include Downtown/Riverside Hotel (335 SE Sixth Avenue), Hilton Marina/Convention Center (1881 SE 17th Street), Pier 66 Hotel and Marina (2301 SE 17th Street) and Gallery One Doubletree Hotel/Galleria Mall (2670 E. Sunrise Boulevard).
The Water Taxi service starts 90 minutes prior to the show opening and ends 90 minutes after the show closes.
Brightline's train service from Miami and West Palm Beach will also have a shuttle service from the station directly to the downtown Water Taxi stop.
For guests arriving by car, the show offers 18 parking sites across Fort Lauderdale, connected by a network of five bus shuttle routes. For a list of all parking locations, click here.
Dining
Proof of the Pudding will be this year's culinary provider, offering farm-to-table fruits and vegetables, sustainable seafood and natural, organic meats through partnerships with purveyors of locally sourced, organic and sustainable products.
The culinary team is planning "Ports of Call"-themed food stations, including Cabo San Lucas (Mexican); Portofino (Italian); the British Virgin Islands (Caribbean); the Greek Isles (Greek); and the French Riviera (Parisian).
Beverages will include specialty cocktails, wines and craft beers. Proof of the Pudding mixologist Anthony Schuch will team up with local brewers to add an on-site "guest brewer" to each drink station.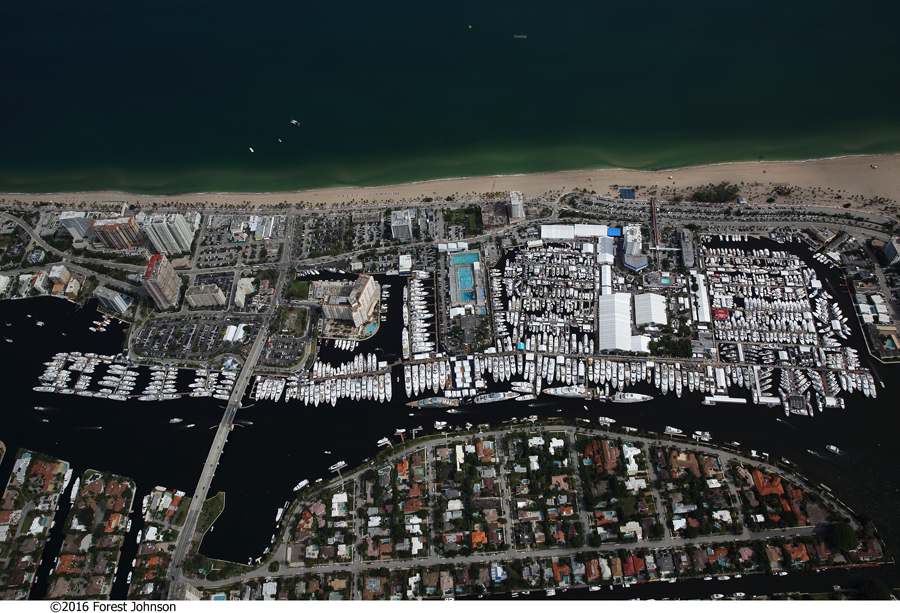 Tickets
One-day adult ticket: $33
One-day prime-time preview ticket (only for Oct. 31): $51
Two-day adult ticket: $57
One-day child ticket (ages 6 to 15): $15
Children under 6: free
Purchase tickets here.
Photos courtesy of FLIBS
Want the inside scoop on new restaurant openings, the best parties in Fort Lauderdale and more? Sign up to receive our Insider's Guide, a weekly newsletter delivered to your email every Thursday morning with a list of the must-attend events in the area. Interested in a print subscription? Click here.